PIONEERING
THE FUTURE
Stories of Discovery & Innovation
at University of Utah Health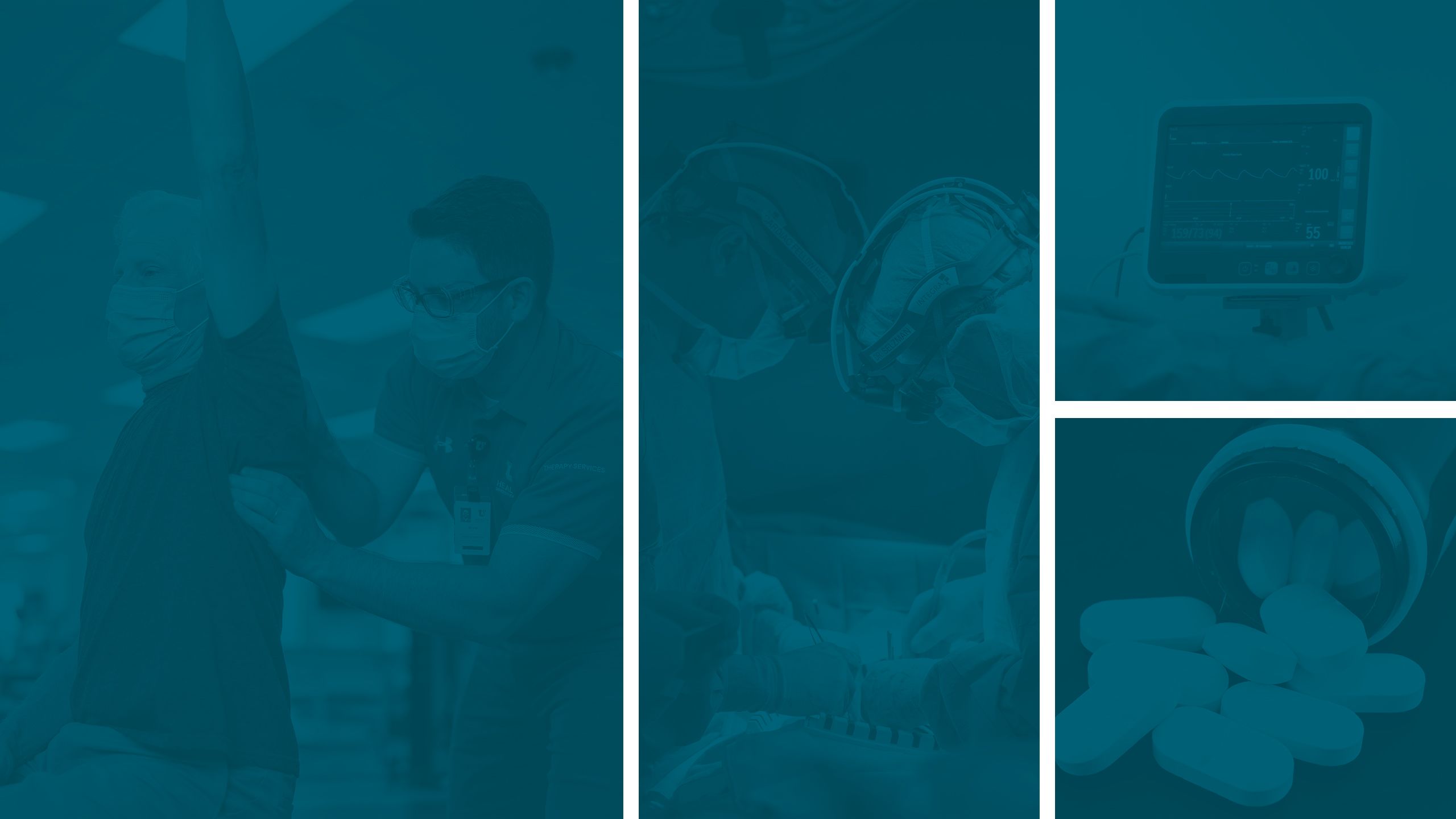 reconsidering clinical care
As they consider what's best for their patients, healthcare providers must call on their personal knowledge and experience in addition to clinical guidelines and study results. Inevitably, medical decisions are often influenced not just by data, but also by societal expectations, cultural trends, and long-established assumptions. Providing the best care requires scientists and clinicians to continually challenge their assumptions and reevaluate how medicine is practiced—particularly as new data become available, alternative treatments emerge, and healthcare systems evolve. As research at U of U Health demonstrates, a closer look and a fresh perspective can sometimes reveal opportunities to address problems that we didn't even know were there.
We depend on antibiotics to treat disease and to protect us when circumstances such as surgery or cancer treatment leave us vulnerable to infection. These essential medications are becoming less reliable, however, as drug-resistant strains of bacteria and fungi spread around the world. Overuse of antibiotics fuels the emergence of these difficult-to-kill pathogens, increasing medical costs and sometimes leaving patients and their doctors without effective treatment options.
Pulmonary and critical care physician Barbara Jones, MD, and Chief of Epidemiology Matthew Samore, MD, analyzed tens of thousands of health records from the Department of Veterans Affairs to determine when and how antibiotics are prescribed to treat respiratory infections. Their research reveals how societal expectations, misdiagnosis, and lack of knowledge about antibiotics' risks and benefits contribute to overuse. They've also found that broad-spectrum antibiotics—which are more likely to promote resistance than antibiotics that target only a few types of bacteria—are less effective against most cases of pneumonia than more targeted treatments, and their frequent use in this setting is associated with increased mortality. The team's findings have illustrated opportunities for improving clinical decision-making to keep antibiotic resistance in check.
Learn more about this discovery.
Most people experience back pain at some time in their lives. Often, the pain resolves on its own, but for some people, it continues for months or years. While patients are usually advised to give their back pain time to subside, U of U Health researchers wondered whether some individuals might be missing a critical opportunity to curb their symptoms with physical therapy and avoid prolonged pain.
In a clinical trial involving 220 people with back pain and sciatica, meaning their pain radiated into a leg, researchers led by Julie Fritz, PT, PhD, associate dean for research in the College of Health, found that patients who received physical therapy immediately after their initial doctor's visit experienced less disability in the following year than patients who followed the usual wait-and-see approach. Their findings offer primary care providers an evidence-based strategy to help patients with back pain and sciatica recover more quickly and get back to their normal activities.
Some patients travel far from home to access care at major medical centers, particularly when they need major surgery. If complications arise and a patient needs to be readmitted to the hospital—as is the case for about 25 percent of patients who undergo major surgery—their follow-up care may take place closer to home, in a different facility and with a different care team. After evaluating millions of health records, U of U Health scientists advise against this, because they've found that switching hospitals after major surgery leads to poorer outcomes for patients.
Using data from Medicare claims, Chief of Vascular Surgery Benjamin Brooke, MD, PhD, and colleagues identified more than 9 million patients who were readmitted to a hospital within 30 days of a major surgery. They found that survival rates were significantly higher among patients who returned to the same hospital and received care from their original surgical team, compared to those who were admitted to a different hospital when complications arose. This was true for patients recovering from a wide range of common operations, including neurosurgery, coronary bypass, and hernia repair. Because continuity of care is so important, Brooke recommends patients have major surgeries done close to home or plan to stay near the hospital where they had their operation while they recover.
Thousands of children experience cardiac arrest in the United States each year, most commonly due to traumas such as accidental drowning or strangulation. Most of these events are fatal, and children who survive usually experience brain injuries and neuropsychological problems. As researchers and clinicians seek the best treatments in these tragic situations, it hasn't been clear whether they should employ a strategy that is used in adults to protect the brain and other organs immediately after a heart attack: inducing therapeutic hypothermia, or cooling the body below its normal temperature.
In a randomized clinical trial, Chief of Pediatric Critical Care Medicine J. Michael Dean, MD, and colleagues found no benefit to therapeutic hypothermia in children who experienced out-of-hospital cardiac arrest. The unique approach used in the trial yielded the key insight that it is the prevention of fever, and not body cooling, that plays a critical role in determining the ultimate health and neurological outcomes of survivors. The important finding may change clinical practice and improve quality of life of children who undergo this terrible trauma.

Pioneering the Future: Stories of Discovery & Innovation at University of Utah Health
Special thanks to Wes Sundquist and Alfred Cheung for their dedicated work compiling research discoveries.
Written by: Jennifer Michalowski
Editing by: Julie Kiefer
Layout and Design by: Kyle Wheeler
Production Supervision: Abby Rooney, Julie Kiefer, Kyle Wheeler
Supported by: Will Dere, Chris Hill, Amy Tanner